Well ... its been quite some time - we visited Lohagadh fort on 24th July ... considerable water has run under the bridge since then (pun intended).... and it is due to waters on Mumbai roads that I got the photos of the trip quite late.
Lohagarh fort was built by the Marathas to guard the important routes on which trade takes place. It is situated near Bhaje village in Malvili, near Lonavala. It stands on a 3400 ft high hill, and the tough terrain makes it truly Lauh-Garh, implying invincibility of the fort. The fort could not be conquered by any attacking ruler, no matter how big an army he commandeered. The strategic marvel that this fort is, it is surpassed only by the monumental strategic blunder that lead to its fall.
A twin fort, christened Visapur, was constructed on a hill adjacent to Lohagadh. Due to internal feuds between the then Maratha Rulers, the Visapur fort was acquired by the British with little resistance. The Lohgadh fort on the adjacent hill was then captured without a single bullet being fired by the British.
Read More: http://www.trekshitiz.com/EI/EI_DefaultUser.asp?FortName=Lohgad

And here are our photos, conquering the heights of Lohagarh .....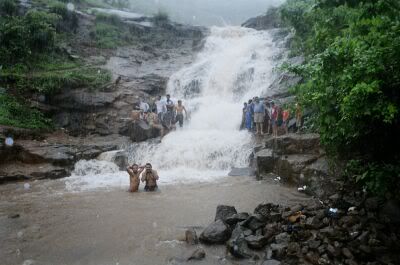 The bottom of the hill - waterfall with tons of force!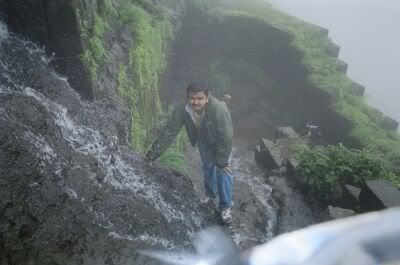 The rise on the fort - its a steep climb throughout
And thats not a cliff but the staircase of the fort. Water flows right 'through' the fort to make the waterfall below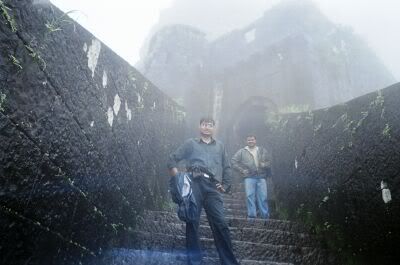 On the Dwar [gate] of the Fort - Sharad (below) and Me(above)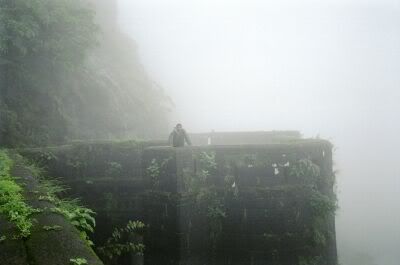 Me on the watch-tower of the Fort.
Its all cloudy up-there ... one can see atleast 5-7 main roads leading to the Fort from this tower. The view covers a radial distance of atleast 10-25 Kms from the foot of the hill.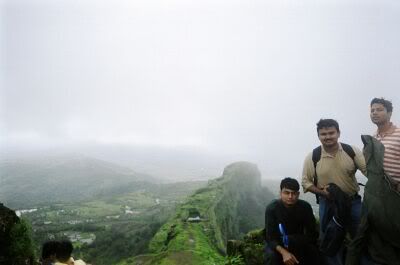 At the peak - Sharad, Me, and Digvijay (L to R)
The trek beyond this point is very difficult; we couldn't take our camera along. There is a watchtower at the farthest end of the long serpent like hill visible behind us. From this tower, one can keep a watch on almost the whole area governed by this Fort. The watchtower was used to keep track of Octroi details for all vehicles entering the state.

And now the best 2 photographs - almost half way up, this is a point where we had our snacks. The two photos are of the same hill, one taken during the trek uphill and the other downhill . Notice the play of clouds.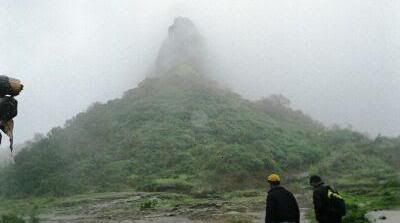 Uphill ....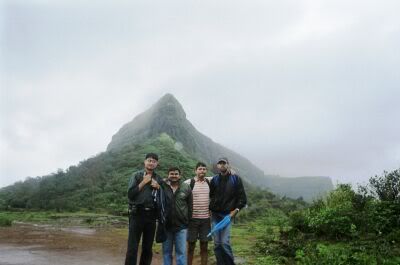 Downhill ....

For more information on Lohgarh, check out the links below:
http://www.trekshitiz.com/EI/EI_DefaultUser.asp?FortName=Lohgad
http://www.aroundpune.com/lohgad.htm
http://www.amitkulkarni.info/pics/lohagad_trek/

PS: This blog is becoming more of a photoblog ... but it is not to remain so ... we are soon getting net at home- and I am also due for a leave from 13th August. Hope to post lots of my pending text blogs.... including some anecdotes of the Mumbai-Maha-Flood-Drama