Went to a outing with a few colleagues (and ex-colleagues) to a place near
Khopoli
. Our basecamp was at '
Tudor Retreat
' - a farm located by a Lake off Mumbai-Pune Highway.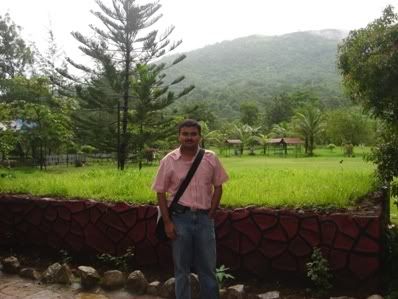 Tudor Retreat is surrounded on three sides by lush green forests and hills. The farm is a spread on 10 acres of land full with greenery, trees and plantations.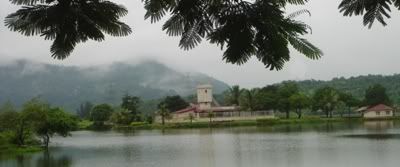 We went to a waterfall about 30 minutes walk from the resort. Since I had wet my shoes playing football earlier - I trekked barefoot to the waterfalls. It proved out to be a session of rigorous acupressure - to be frank - 'twas was quite a torture; I am still nursing my feet.
The waterfall was wonderful! Water was gushing from the cliff (about 50 feet high) with immense force - none of us could manage to stand exactly below the main waterfall. There was a smaller offshoot waterfall, which also was quite forceful - but just enough for us to take some acupressure on our head and back as well.
It was raining, so unfortunately, none of us could carry our cameras to the waterfall.
Nevertheless, here are some snaps I took on the way to Khopoli ...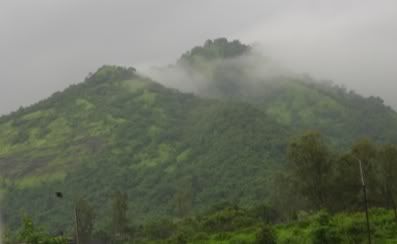 And here's the gang of colleagues who went ....
Note to Readers:
I know I haven't posted any

real stuff

since long - sorry; have been tied up in work. I am expecting to find some time coming week - and there is a lot on my mind about which I want to post .... till then enjoy the snaps which come your way :-P

Update
Just noticed that the organizer or the trek was missed out in the group photo ... so here we go:


And here are the contact details of the place:
Tudor Retreat
Lake Kalote, Khopoli
Off Mumbai Pune Highway
Contact person: Mrs Khan / Mr Saif
Contact # +91 98 210 26639