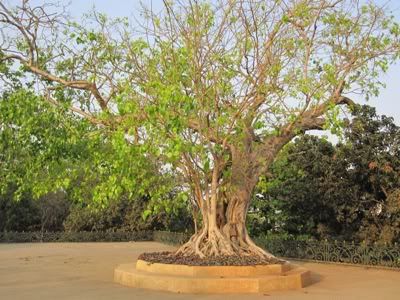 I tried my hand at some amateur literature - attached is a short story I thought up on my way to home on last Thursday. Do leave your feedback in comments below. You can also download a PDF of the story from here.
Thanks to my friends Abhishek, Payal, Shubham, Arijit, Somnath, Milind, Sabyasachi and Ashita for doing the proof reading and providing valuable inputs.

The Tree

A Short Story by Nikhil Kulkarni


Murtaza watched with emptiness inside him as they chopped the massive trunk of the huge banyan into smaller prices to be loaded into the lorry. His thoughts went back to the day 45 years ago when he had moved into Mumbai.
20 years old, newly married he came to Mumbai from his native town Meermirzapur in search of a living. When he had told people in his neighbourhood that he was planning to shift to Mumbai after marriage – everyone laughed him off –"Wahan kya Hero Banega? Arey bahot bada shehar hai – kaise rahega wahan par?" [Will you become a movie star there? It's a big city – how will you live there?]
But Murtaza was not the one to be dissuaded – Orphaned at the age of 17, he had no reason to stick to the rustic life of Meermirzapur. More so, Murtaza had his priorities clear – he was not going to Mumbai with an idealistic dream of becoming a Movie star or an iconic businessman; he simply wanted his children to live a better life than what Meermirzapur offered. And he had found an able soul mate in Sakina – who was orphaned during the partition riots when she was barely 16; both wanted to get out of the communal backdrop of Meermirzapur.
But when they set foot in the huge Victoria Terminus in Mumbai, they were overwhelmed – none of them had seen anything so huge and bustling with people. They had seen a few things in movies but stepping into the scene in real life was humbling and scary at the same time.
Murtaza had some money from his father's savings and sale of property in Meermirzapur. That helped them survive the first few months – meanwhile Murtaza had found a job with a local tea-stall at VT – to deliver tea to the Babus in the Municipal Office right next to the railway station.
Life was going well for Murtaza and Sakina, but living in a place like VT – crowded and dirty - was not exactly the way they wanted to live lifelong – and fortunately, opportunity knocked soon.
One of the Babus at the Municipal office, Parasram Chowguley was particularly fond of Murtaza – belonging to a small town of Latur himself, he identified with Murtaza. He chatted with Murtaza during his tea breaks, and sometimes even dropped by the tea-stall when waiting for his train at the VT station in the evening.
One day, when Murtaza delivered tea to Chowguley, he found him particularly worried. Chowguley told Murtaza that the Mumbai University had bought huge land in a village called Kalina, beyond Bandra and needed support from the Municipality to develop it into an extended campus. Chowguley was being promoted and transferred to handle the Municipality's new operations in Kalina.
Where Chowguley saw dilemma, Murtaza saw an opportunity – he knew that if the university was developing a new campus – the locality would soon become a good place to stay. Also with the construction work initially and students coming in later, the place would have a good flurry of people. How would it be, he asked Chowguley, if he opens his own tea-stall at Kalina? Chowguley was elated – he would get a companion he thought and anyway they would need a makeshift canteen at the site; he backed Murtaza's plan enthusiastically.
So, Murtaza and Sakina shifted to Kalina - fresh air, lots of trees, and straightforward people – they liked the place instantly. Murtaza opened a tea-stall just outside the site for the University's new campus and things started. Chowguley lent him some money to set-up a shanty and start work.
Life looked up since then - customers changed from construction workers to teachers and students; business soared, Murtaza's shanty grew into "Murtaza Hotel" and then converted into Café Murtaza – a happening joint for all college crowds.
But Murtaza and Sakina's personal lives remained bare – Sakina did not conceive. Murtaza consulted Chowguley, who referred them to many doctors in the city. After some time, they gave up hope – instead another fixation occupied them – adopting a child.
Several street children used to throng to the city of Mumbai in hope of success of their dreams. Murtaza had employed some such children - both Murtaza and Sakina started dreaming of adopting them. They treated them well, even gave shelter to one such boy at their one bedroom flat for a few days.
But these children were not orphans – they had parents, but they had run away from their homes. So adopting them was a bit delicate matter. So Murtaza and Sakina started slowly persuading them to study and get educated. Being near to the university where children from well to do families came for education, further boosted their zeal. They thought by channelising the children into education; they would be able to trudge nearer to adopting them.
But none of the children whom Murtaza employed stuck with him. Most of them ran away from home because either their parents forced them to study (which they wanted to escape), or their parents forced them to work. Those who came to the city to escape work soon realized their mistake that it was not possible to study while working. So, once persuaded to study they usually found their way back to their home. On the contrary those who wanted to escape studies in the first place quit the job when persuaded to study.
Disappointed with time Murtaza and Sakina finally resigned to their fate and started living life just for the day. Everyday became a series of chores – the city grew around them; country liberalized, students started frequenting the Café Coffee Day more than Murtaza's Café. More than the lack of business, the whole euphoria pinched them. With no member of the next generation in their house, it was even more difficult to understand the 'India shining' thing. And as their age grew, the body had less and less strength – and so the growth of the bustle was more trouble than euphoric.
The whole emotional turmoil combined with rising pollution and strife of life worsened Sakina's health – and finally at the age of 52 Sakina succumbed to asthma. Murtaza was left alone.
While the absence of an offspring had always been a gap in his life – Sakina's companionship had made life a bit easy to trudge. After Sakina's death, Murtaza felt lonelier. It was then that Murtaza started noticing the Banyan tree in front of his Café – standing alone, in the middle of the road on the divider – the tree had come a long way.
Over a period of time, Murtaza had started identifying himself with the tree – standing alone right there on a road divider, having made a life out of nothingness in the metropolis and still in the middle of everything. He even pictured himself talking to the tree at times, though he was sane enough not to have actually done it ever. But the more he thought, the more he felt his live resembled the existence of the tree.
The banyan like other banyans had grown prop roots, but few of them survived – some dried by themselves others were cut by the authorities as they obstructed traffic on the road. Murtaza saw his own trials to educate the street children whom he employed, as a metaphor to the ill survival of the banyan's prop roots.
Days passed and Murtaza had grown older – he was earning enough to live a comfortable life – he had now employed a full time manager for the Café and he himself mostly only saw through the major finances. The tree also stood the wrath of time; while most other trees had dried up with the rising pollution, the Banyan stood upright – through the seasons, the traffic – even survived through the water logging fiasco in 2005.
Then one day on a fine Friday morning of 25th January, 2007 when Murtaza visited his Café, he saw the Banyan 'prostrate'. There had been no event the night before, no rain; no gusty winds, nothing – yet the tree fell – for no reason. It was as if it had lived a life full of strife, without showing any emotion on the outside but from inside the tree was becoming weaker by the day and suddenly when the whole weakening became overbearing – it fell.
Murtaza was in a shock, he did not look into the previous day's finances – he was not interested any more. He simply sat, wide eyed – thinking or probably not even thinking. He went home early that day and at night a sudden sadness came over him, he cried, cried a lot – and then went to sleep.
The next day Café Murtaza was closed – the manager and the boys at the Café decided to keep it closed in commiseration of the sad and sudden demise of their owner.
.. .. .. .. ..
A week later, one of the waiter-boys at Café Murtaza noticed a tiny sprout of Banyan on the road divider where the old tree had laid – he started watering the sprout the next day onwards.
*All characters in the story except 'the tree' are fictional*
This work is licensed under a
Creative Commons Attribution-Share Alike 3.0 Unported License
.