I would not be too far from reality if I said that internet is my food and cellphones are my drinks. Yeah .. I am constantly using one of these two things - whether I am at work, at home, or on a vacation. So its particularly painful when my cellphone breaks down 
And so it was even more troublesome when this time my phone's keypad went bad and after 15-20 days of enduring it, and trying to get it repaired/replaced, I was told that it was beyond repair. So finally, I decided to spend some more moolah on another phone ....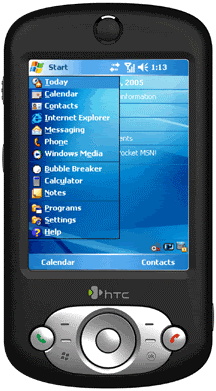 I bought a fully loaded HTC Touch (
P3000
) - Windows Mobile, 64MB memory, 2.8" touch-screen, 2 Megapixel Camera. What I am going to use most if the internet and To Do list features. The battery seems ok - runs 2 days flat without any problems. Tried the Google Maps app for starters - and 'twas awwsome.
So that takes my cellphone tally to 3 .. my previous 2 phones being