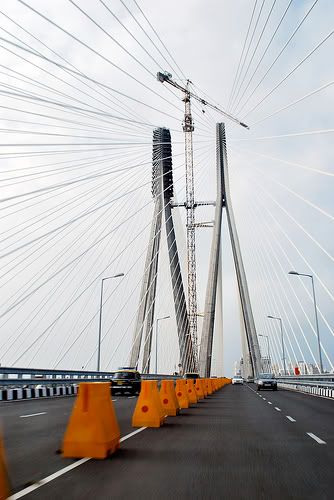 Image Credit
:
Abhijeet Rane
I took the Bandra-Worli Sealink to work today and as I started on the Sea-Link the song "Yeh Tumhari Meri Batien" from rock-on started playing on the Radio. Reached office from
Borivli to Lower Parel
in flat 40 minutes - the day could not have started better.
Mumbai's infrastructure has been improving by the day. This city which looked "more like a conglomeration of many small cities from Ghatkopar to Andheri joined together" [
ref
] is now starting to take shape of a real megapolis.
In the past 5 years, almost all roads have been cemented, pavements redone and flyovers has been made on most major traffic signals. To add icing to the cake we have the first phase of Metro (Andheri-Ghatkopar) coming up by 2010-11 and at least 3 monorail (Bandra, Santa-Cruz, Borivli) coming up by almost the same time.
But a lot of this good work is undone by - hawkers who still occupy the pavements and footpaths (and often uproot the tiles on them to set up 'permanent' shanties), defunct taxis and goods carriers who park all along the roadside and the numerous people who spit all over the place. Anyway - I do hope this is a small issue and people will soon upgrade their habits and make most of the infrastructure being laid out in the city.