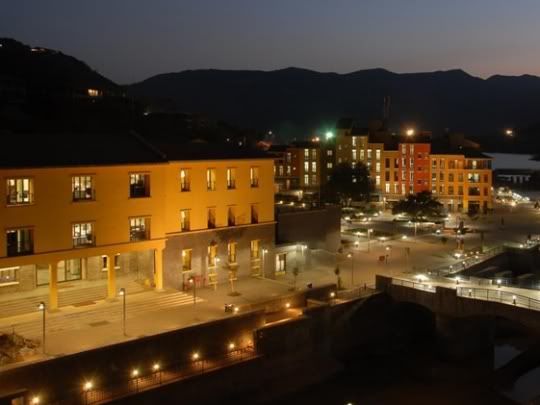 Couple of weekend's ago I visited Lavasa - build about 50 kms away from Pune in the Sahyadri range of hills; its a good attempt to create a Dalhousie or Mussourie equivalent for Western India. While the weather conditions in Western India do not give you the luxury of creating a 'cool' hill station - it sure isn't a bad place to spend a weekend lounging and relaxing.
However, as I read through some pamphlets which we got during our trip and researched a little more on its concept - I was intrigued by the tall statement made by Lavasa Corporation which claims that "Lavasa is envisioned to be a more liveable city of the future where residents can
live, work, learn and play in harmony with nature
". While I could fathom the live, learn and play - the 'work' aspect didn't quite convince me. My wife suggested that the 'work' aspect probably relates to the workers in hotels, resorsts, hospitals and schools located in Lavasa; but when I dug deeper into the masterplan [
1
] [
2
] I found out that it does envisage "a 365 day economy with a host of non polluting industries being the main economic driver; these include R&D and training centres, IT and biotech industry, KPOs and those related to art, fashion and animation."
What appeals and bothers me at the same time is that the concept is Lavasa runs contrary to most of the urban planning beliefs that are emerging across the Globe. Lavasa is modeled on European model of small towns with low skylines, spread across acres of land to provide for an exquisite living. This model of development, while looks exquisite and glamorous, is contrary to the numerous research conclusions [
3
] [
4
] [
5
] [
6
] that dense cities are more efficient, hence less wasteful and thus more sustainable for an economic and environmental perspective.
Secondly, let us assume that all the empirical research on denser cities, might be wrong - for example dense cities mean individuals have less 'mental space', there are more ecological problems arising out of confined spaces in which people operate (example sanitation), or that the costs of maintaining dense city infrastructure outweighs the benefit they accrue. Even in this scenario - I fail to understand how a city like Lavasa which is built off the expressways, far from the nearest airport would attract talent to run the R&D centers or KPO's that it wants to set up.
Thirdly, Lavasa is built on assumptions arising from European lifestyle attributes, so much so that it has actually aped European cities in design. For example, Dasve - the first model town at Lavasa is actually a copy of the Italian town Portofino [
7
] (on which one of the streets is named). I doubt if European way of living developed in the colder and dryer environs of the northern hemisphere can be sustained in the tropic environment of India [Criticism:
8
]. The resources needed to sustain the lifestyle of west in India would be huge and lead to wastage of money, power and water - all scarce resources for a country like India.
Finally, from an economic standpoint - we are all seeing the crisis which Europe is going through. While it will be unfair to say that the city planning is the reason for the crisis - but surely the amount of public spending done by European governments across the social security infrastructure - which includes development and maintenance of these sparse but cozy towns - is one of the major reasons for the debt crisis being faced by Europe. In this larger context, is it really a good idea to develop a city based on European model?
Before I conclude, I must clarify that I am not against the concept of developing Lavasa. Surely in the new India where we have wealthy and growing urban middle class which seeks comfort in every aspect of life, from their workplaces to homes to holidays and weekend getaways - there is place for projects like Lavasa to prosper. I am sure there will be many who wouldn't mind buying a 'weekend house' in Lavasa and even more who would visit the place again and again to recoil for a weekend or two occasionally.
Lavasa sure will also take the load off the severely abused Lonavala-Khandala stretch as a weekend getaway for Mumbai-Pune residents. Such a place is also good for setting up boarding schools and recuperation facilities (with advanced medical care). However, I don't see Lavasa as a place for setting up KPO offices or R&D centers. I think the makers of Lavasa should change their vision to make a more liveable city where residents can
live, learn and play - the work part doesn't quite fit!
.