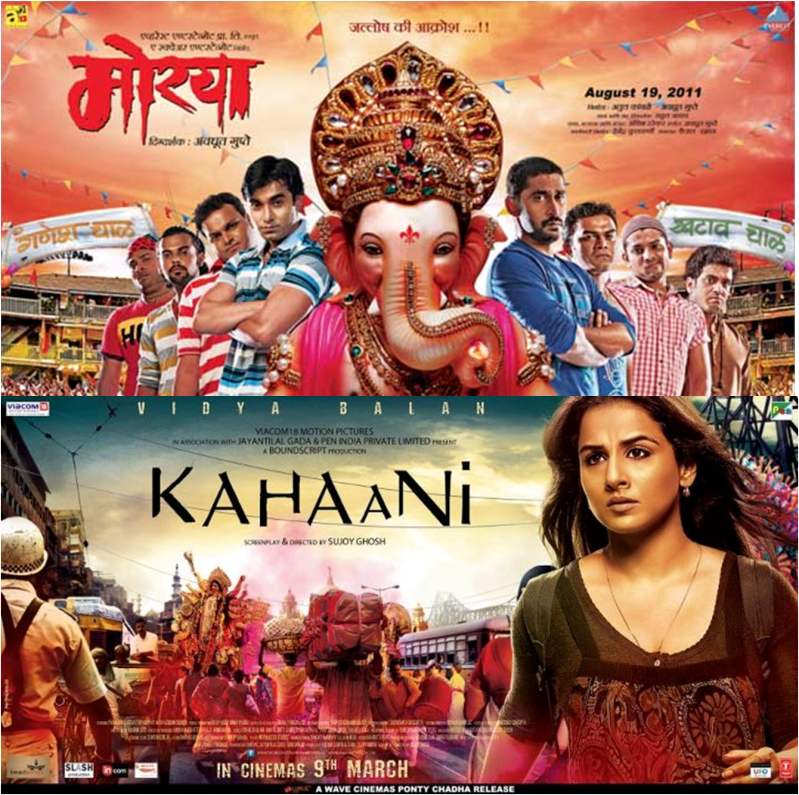 There is no doubt that Indian society has transformed in the past 2 decades and our cinema has transformed along with it - everything has changed. Indian movies are nowadays technically far superior, editing and conceptualization of sets etc are good, and finally story lines are far more mature (though many of them still continue to be copies of Hollywood counterparts).
Nevertheless, Indian cinema continues to differentiate itself from Hollywood in that its essence is closely influenced by human relations, beliefs and metaphysical constructs (religion, love et.al.). The latest two movies I watched - Morya (in Marathi) and Kahani (Hindi)- reinforced my belief that Indian cinema is transforming itself while maintaining that differentiation with Hollywood.
Morya portrays the rivalry between two chawls in Mumbai in organizing the local Ganesh pandal festival - illustrating how the festival which was conceptualized a
public organization
by Bal Gangadhar Tilak to unite people against the British is now causing factionalism - defeating the purpose. The movie ends in typical 80s style with the protagonists realizing their mistake murder the villainous politicians in true vigilante style but scrape through thanks to a benevolent police officer. However, what is remarkable is how religious subtext is dealt with dispassionately without any sequences showing the deity "causing" any miraculous turnarounds.
Kahani on the other hand is a new age thriller, a story of how a pregnant woman (Vidya Balan) trying to locate her lost husband gets involved in an Intelligence failure story and ends up delivering results to the IB (Intelligence Bureau) agents. The metaphysical connect of the movie delivers at the end where the voice over compares Vidya's character to Maa
Durga
delivering justice drawing the analog to Maa decimating the
Asuras
. There is again no "mystic deliverance" depicted in the movie - but the connect shown by the analogy maintains the overall tone of the movie.
The above two movies are just indicative how Indian cinema is adapting to a change in the audience sentiment which is now rational, yet (ironically) is still metaphysical and religious in its inner mental make up. I find this a happy transformation - thankfully Indian cinema is not aping Hollywood as many predicted a couple of years ago and is developing an identity of its own.