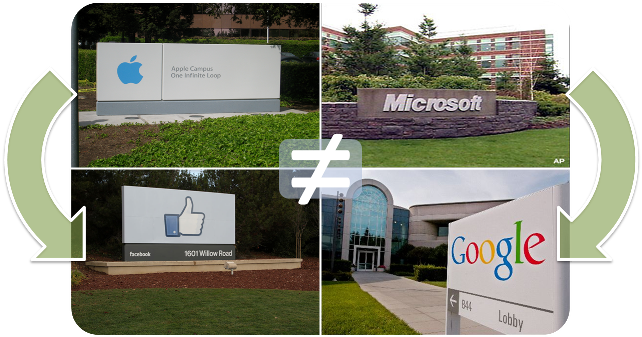 The Tech Geek world is quite dry and mundane to the outsider but for insiders this is filled with philosophical nuances and comparisons. In the recent years, Apple has become the cool company thanks to the iPod and iPad while Microsoft has lulled thanks to the
development hell
most of its products are going through.
However, reverse to the 80s and early 90s - Apple and Microsoft were two icons of the Tech world competing with each other and yet not directly competing with each other thanks to the divergent philosophies adopted by them. Apple believed (and still believes) in tight integration between Hardware & Software while Microsoft believes in decoupling Software from Hardware.
Macintosh computers differ from competing Windows systems in that a single company is responsible for both the operating system and the hardware on which it runs. Windows computers are made by dozens of different manufacturers, and Microsoft cannot control either the minimum baseline of the hardware, or the variety of components which may be included in a computer intended for Windows use. Apple, on the other hand, has complete control over the variety and range of Macintosh hardware
Source: Apple Differentiation Strategy | eHow.com
While some OpenSource evangelists might kill me for saying this - but I consider the above divergence between philosophies as that of - Open Systems and Close Systems - and Microsoft in this equation falls on the side of (hold your breath!) Open systems.
This might seem
counter intuitive
today given the widespread criticism M$ (sic) receives from Linux fans but this criticism is quite unfair given the fact that OpenSource philosophy which is embraced by Google (in Chrome or Android projects) became popular in the 90s. When Microsoft was in its prime competing headfirst with Apple and Big Blue IBM - OpenSource was in the cradle. More so, in the early days of the software industry - it was a hardware behemoths - the Big Blue IBM, Hewlett Packard, DEC - who ran their "
proprietary
" hardware stacks. In this context, the meaning of being "Open" was being open to run on any hardware stack.
Microsoft chose the path of openness, while Apple chose to compete with the Big Corps with their own integrated hardware-software stack. This is similar to the strategies adopted by Google and Apple today in the Mobile OS market. Google chooses to build an open OS which runs on any hardware stack that prefers to run it - Samsung, LG, HTC et. al. Apple's iOS however, can only run on its own hardware. The Big Boys who are (rather were) being challenged here include Nokia and Motorola.
However, I digress - the moot point which I want to present is that the original philosophical distinction between Apple and Microsoft in the late 80s and early 90s is being reflected in the current tussle between Facebook and Google today in the online world.
Facebook is like a Mac - everything you want to do has be be walled within the Facebook garden: want to create your blog - Facebook calls it notes, want to create a microsite - Facebook calls it pages, want to create your Bio - Facebook calls it profile, want to chat - Facebook wants you to use internal chat.
Contrast this with Google: want to blog - use blogger - everyone can see it logged in to Google or not, want to create microsite - use Google pages - again open website, want to create Bio - create Google profile - but it remains open to the world, want to chat - use GMail/ Google Talk - everyone can create an account without subscribing to other Google services.
The contrast is similar to that between Windows and Mac. If you need to use Keynote - buy a Mac, you need to use Safari - buy a Mac!
Contrast this with Windows - you can use Office on Windows or a Mac, you can use Windows on any hardware stack.
Who will win the tussle? Read Next.